Get the Best Gate for Your Dollar: A Guide to Gates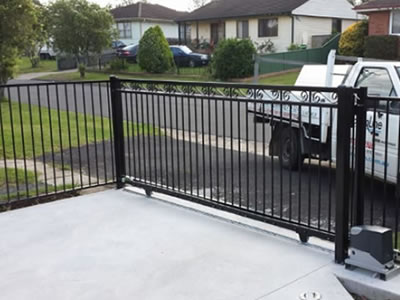 Whether it is for your home, your garden, or for your private pool, fencing is essential for the security of your property and for the safety of children, pets, and other members of the family. Security fencing and pool fencing can be easily installed, but they do require additional hardware, and a fence isn't much use without a way to get in and out of it.
Not only is it a challenge to find the right gates, it's a challenge to do it the most affordably without compromising the quality of the materials or the lifespan of your gate.
Sliding Gates: Yes Or No? It's Your Decision!
Gates can add a significant amount to your expenditure for a fence, especially if you spring for higher-end models such as sliding mechanised gates, which require more specialised equipment and have many more pieces than a traditional hinged gate.
While there are absolutely conveniences and benefits to having an automated gate, and while you should not hesitate to install one if it is right for you, inexpensive gates can do a simpler job for significantly less money. Plus, they won't need electric repair or cost any money to power.
On the other hand, a sliding gate, or an automatic one, will be more than worth the investment, if that is what you need. A gate across a driveway, for example, or a gate that will need to be frequently passed through, may benefit in terms of how user-friendly it is from an electric power source or from an automated motion sensor. Also, motorised gates will be more than worth the expenditure for those who have physical handicaps or other difficulty moving.
Gates: Economical Versus Cheap and Choosing the Right Gate
Although it may seem counterintuitive at first, don't skimp out when buying your fencing or your gate! Installing something as big as a gated fence is a significant investment and if you use cheap materials, your gate will give in and need to be replaced much earlier than a sturdy gate. Plus, cheaper materials will degrade faster, and they will not be as secure or look as attractive.
Unlike finding the gates in the first place, this need not be a challenge. Aluminium gates are stylish, sturdy, affordable, and come in all sorts of styles, colours, and designs to fit all of your needs. Wooden gates are also stylish and sturdy, but they require slightly more upkeep than metal ones, as they need to be refinished. For most people, and for most purposes, an aluminium gate is the best, hardiest solution to enclose your yard, pool area, or other space.
The best way to save money, however, is to choose the source of your gate wisely! Beware of purchasing from vendors who significantly mark up the price of gates. Cheap and reliable gates aren't far away.
Your fencing is our priority at Alam Fabrications. Visit our website today or contact us herefor more enquiries.