Child Safety Laws for Fencing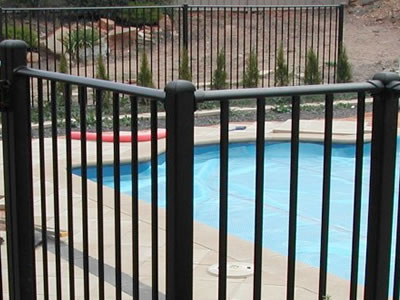 Swimming pools are a great way for children of all ages to have fun and keep cool in warmer weather. However, it is extremely important that children under the age of five are not allowed in swimming pools without adult supervision. Regardless of whether children have been taught to swim or not, swimming pools must have proper fencing in order to prevent tragic accidents.
Each year, many children drown as a result of inadequate and improper pool fencing. Whether or not you have children, your swimming pool must have proper fencing for safety reasons. These laws apply for built-in swimming pools or inflatable swimming pools. In NSW, pool fencing laws depend on the year the pool was built and its location.
Specific Fencing Guidelines
If your pool was installed prior to 1 August 1990, a fence must always be in place. The older fencing can include compliant doors and windows. However, doors and windows in fence are not allowed for newer swimming pools.
Compliant pool fencing door requirements:
Self-closing doors
Self-latching doors
Latches that are located a minimum of 150 cm from the ground
No footholds greater than 100 cm from the ground
No footholds wider than 1 cm
No pet doors
Compliant pool fencing windows must meet one of the following requirements:
Locking mechanism
Safety screen preventing openings of greater than 12.5 cm
Even if your pool is older and may allow installaton of windows and doors, you must take proper care to make sure they meet all NSW guidelines for child pool safety.
In cases of pools built between 1 August 1990 to 30 June 2010, pool fencing must surround the entire pool and separate the pool from your home. If your property is less than 230 square metres, greater than 2 hectares or located on waterfront, there may be exemptions to this law.
If your pool was built after 1 July 2010, your fence needs to surround the pool and separate it from your home.
Fencing Measurements
All fencing in households must meet the following guidelines:
Minimum fence height 1.2 metres and above
Pool fence ground gap may not exceed 10 cm
Vertical pool fence bar gaps may not exceed 10 cm
Horizontal pool fence bar gaps must have a minimum separation of 90 cm
In order to prevent children from climbing over pool fencing, any climbable objects need to be at least 90 cm away from fencing. This includes all trees, bushes, potted plants, chairs, barbeque grills, ladders and toys.
Gate Regulations
Pool fencing gates must never be left open and must be self-closing and self-locking. Gates must be installed to open away from the pool area.
Pool Fencing Maintenance Guidelines
Make sure all the screws, fasteners and bolts on your fences are fully tightened and functional. As a pool owner, you should also ensure screws, fasteners and bolts are replaced in a timely manner due to regular wear and tear. All self-closing gates, doors and window hinges and latches need to be adequately lubricated to make sure they are in good working condition.
Call Alam Fabrications to schedule an appointment to install a fencing or maintenance. We are here to help you make sure your it complies with legal requirements and looks great too!