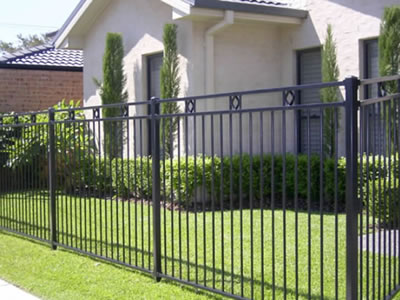 Australians love spending time in their backyards and gardens, enjoying the wonderful Australian climate. Having the right garden fencing can make that time even more enjoyable. Garden fences come in many different styles, shapes, materials, and colours, but, most of all, they need to perform a function. Some fences perform certain functions better than others. There are endless options for garden fencing, and choosing the right one can be daunting. Careful planning is very important, and perhaps the first thing you need to decide is exactly what you need your fencing to do.
Privacy Fencing
Sometimes the best neighbour is the one you can't see. Some even call these "Good Neighbour Fences." Your neighbour may be lovely and one of your best friends, but you still need your privacy. Perhaps your neighbour's backyard is unsightly, or maybe your neighbours don't like what they see in your backyard and have been complaining. A fence is a great alternative to an altercation.
To help keep things on a friendly basis, you might want to let your neighbours know in advance of the wall you are about to put between you. Maybe you can even let them help you choose the type of fencing you will share. At the very least, you would want to make sure that their side of the fence is as aesthetically pleasing as your side.
To achieve optimum privacy, opt for a high, solid wall. Another great option is a slatted or louvered wall, which combines privacy and style. These walls will also keep noise from drifting from yard to yard.
Security and Safety Fencing
We all want to think of our homes as a safe haven. The right fence can help give you desired peace of mind. Security fences can help to keep the bad guys out, while keeping your children and pets safe within them. If you have a pool, a sturdy barrier is a must. And, for your driveway, you can get an automated swing or slide gate.
When shopping for a garden fence, be sure to choose one that is not only secure, but that is also safe for your family. A safe fence is made of sturdy, durable material. It will have no footholds for climbing on or over. There will be no sharp edges, splinters, or exposed nails or screws.
Decorative Fencing
Your fencing shouldn't just be serviceable; it is an aesthetic extension of your home. A beautiful fence can enhance your backyard and be the crowning glory in your front garden. That's why it's important to match your fencing to the style and personality of your home.
There are many types of garden fencing to choose from:
Tubular metal
Timber
Chain wire
Galvanised steel
Glass
The right fencing should give shape and definition to your garden as well as improve the look of your property. And don't forget to think about your view. If you are lucky enough to have a stunning view of the city skyline, ocean, or valley, the last thing you want your fence to do it get in the way!
For more enquiries, contact us here.