Aluminium Slates - The Latest and Greatest Fencing Material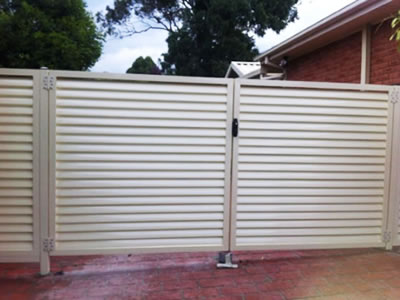 As soon as we humans started laying around the shanty - feeding the chickens and pigs and milking the cows - instead of clambering through the jungle or bush, hunting and gathering the day's calories, we had to figure out some way to keep those calories from running off into the bush where we would have to go hunt and gather them. Sure, the bloke who invented the wheel deserves a pat on the back, but what about the inventors of what would one day become modern day fencing?
Fences Have Evolved as We Have
No more tying the goats up with vines before bed only to find they'd eaten the vines before midnight and then been eaten by lions before breakfast. Fences offered numerous important benefits, however they also required maintenance and with longer-lasting sturdier materials, this has become less of an issue.
The passing of time has meant innovation and improvement to the fence. Since their inception, just about every material imaginable has been used to build enclosures. From dry-stacked stone to plastic, it's possible to use just about anything, even water (have you considered a moat around your home?) to add privacy or security to your castle. In Sydney, many people who lack the room or resources for a moat are choosing aluminium slates for their fencing material.
A Newer Fencing Material with Benefits for Everybody

Light, flexible and corrosion resistant, aluminium has found a place in the construction of many products, but it's relatively new in fence and screen building. And it's growing fast. Builders and property owners can find a lot to agree on when considering it as a building material for fences and screens.
It's also growing in popularity with designers who are discovering its usefulness in endless architectural contexts. Vertical slates suit some circumstances. Others call for horizontal slates. Louvered slates add another architectural dimension. Slates can be used in constructing screens to separate spaces, to create privacy or to hide unsightly features like utilities or rubbish bins. Slates can be closer together to afford more privacy, or farther apart to let in more light. Aluminium slates can be powder coated in a spectrum of colours or they can be given a decorative treatment to make them look like natural wood or even stone!
Tough Enough Even for Australia
Aluminium's durability also means it's stable, enduring even the sometimes ferocious conditions of Australia without the deterioration that commonly occurs in other building materials. Steel and iron rust, and are heavy. Wood warps, cracks, twists and rots. And burns. Vinyl can crack and oxidise. And melt. Aluminium slat screens and fences increase property values.
Screens and fences can be used in so many places in Sydney: arbors, gazebos, carports, swimming pools. Swimming pools! How much safer would your swimming pool be with an aluminium slat fence and gate securing it? Enhance your home! Your life! Want to know more? Click here for more information.